For hundreds of years before 1907, fishing fleets travelled annually to north Australia from Makassar, located southwest on the island of Sulawesi, to harvest trepang (bêche-de-mer). Although trepang was not a commodity valued locally in Makassar, there was lucrative profit to be made by on selling this product to China. Archaeologist Campbell Macknight has called this large-scale trade 'Australia's first modern industry'. At the peak of this industry in the 19th century, dozens of Makassar praus (ships) carrying thousands of trepangers visited the Arnhem Land and Kimberley coasts of north Australia for months every year and many Indigenous people from Australia ventured to Makassar and beyond. This trade finally ended in 1907 due to a culmination of adverse factors. Among the most prolific trading partners of these Makassan seafarers were the Yolŋu people of northeast Arnhem Land, who today still remember them through enduring kinship ties, ceremonies, and hundreds of Makassarese, Bugis and Malay loan words like lipalipa (dugout canoe), rrupiya (money) and bandirra (flag).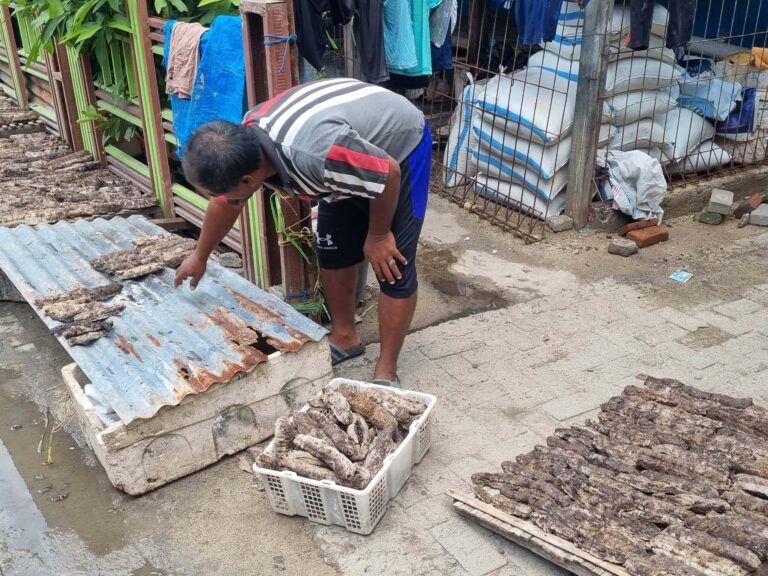 Trepang drying in the sun, Makassar, February 2013. Credit: James Pilbrow.
The long history of trade between Makassans and Yolŋu people contributed immensely to forming traditional Yolŋu understandings of foreign exchanges and cross-cultural engagements that prefigured British colonisation and endure to this day. Yolŋu laws and ceremonies have long incorporated recognisable themes and materials drawn from the shared past with the Makassans, while simultaneously asserting Yolŋu sovereignty and autonomy from foreign influences. This is intrinsic to understanding how Yolŋu people have sustained their own traditions while negotiating the otherness of foreigners, even though their cultural expressions have long utilised the very influences, material and technologies imported by foreigners. It is also intrinsic to understanding the strong and enduring historical memory and appreciation of trade into Australia that we found in local many people when visiting Makassar. 
This article discusses a recent collaboration between researchers from the University of Melbourne (Australia) and Universitas Hasunuddin (Indonesia), which included Indigenous elders from both communities. It considers the long history of trade and family relationships between Makassans and the Yolŋu people of northeast Arnhem Land and the ways this is now informing ongoing collaborations in research, cultural exchanges and beyond. We argue that attending to these historical relationships and expanding them in the contemporary era is critical to decolonising Australia's engagement with its wider region. 
The team 
In February 2023, our research team from the University of Melbourne prepared to leave Australia for the Indonesian city of Makassar to learn more about the trade and history between Makassans and Yolŋu people. While much has been written about Yolŋu memories of Makassan trade, little research had been conducted that bought together voices from both Australia and Indonesia.  
We were travelling to meet Muhlis Hadrawi from Hasanuddin University in Makassar. Hadrawi is the Head of the Department of Regional Literature and fluent in a range of local Indigenous languages and scripts, including Makassarese, Bugis and Lontara, as well as a highly respected local Indigenous Bugis ceremonial leader. The Bugis, famed throughout the Malay world for their sailing skills, were heavily represented in the crews that once regularly visited Australian waters along with the Makassans and a range of other local ethnic groups. Hadrawi was assisted throughout our trip by his student, Jasmine Maulana, who interpreted for us. 
Two of the senior Indigenous colleagues on our team were the husband and wife Yolŋu ceremonial leaders, Brian Djangirrawuy Gumbula-Garawirrtja and Renelle Gandjitjiwuy Gondarra. Gumbula-Garawirrtja is a senior leader of Gupapuyŋu alliance, which is in a group of Yirritja-moiety Yolŋu clans that regulated Makassan access to a network of Yolŋu ports and appropriate sites for landing, living and working. Gondarra is a Golumala woman, whose great-grandfather was himself Makassan. One of our primary aims was to bring together Hadrawi, Gondarra and Gumbula-Garawirrtja as leaders from both sides of the old Yolŋu–Makassan trade relationship.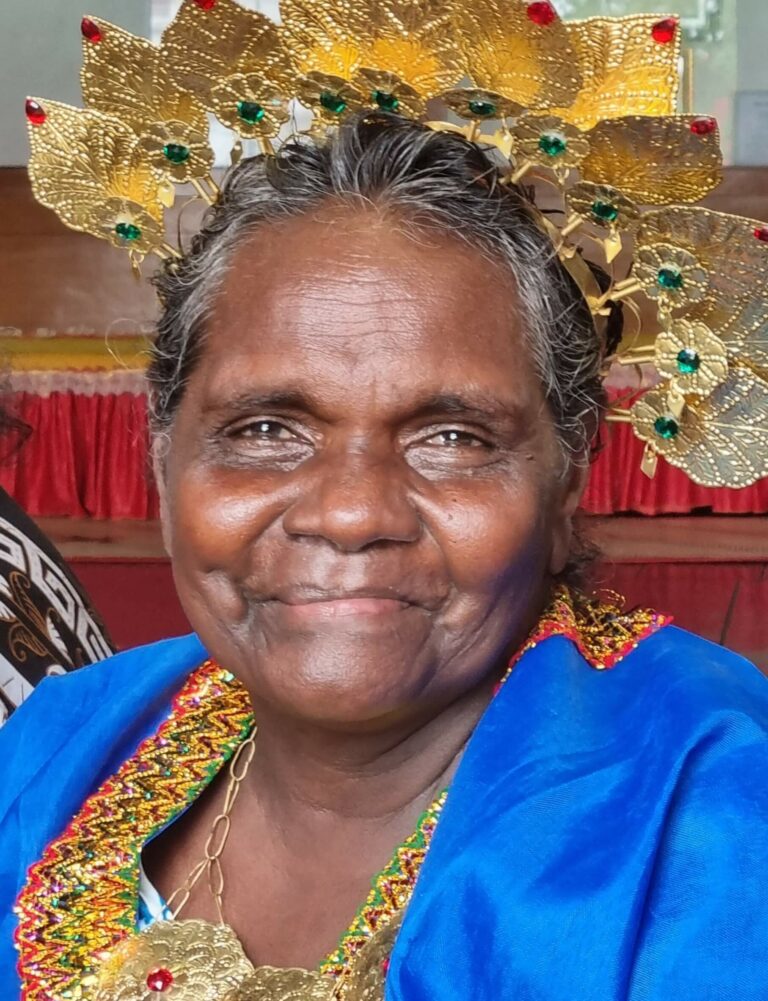 Renelle Gandjitjiwuy Gondarra. Gumbula-Garawirrtja dressed as a Makassan princess, Makassar. February, 2023. Credit: Lisa Palmer.
Other members of our team brought complementary experiences and interests to this project. Marcia Langton's research into the trepang trade between dates back to the 1990s and culminated in a major international exhibition and opera. Lisa Palmer first travelled to Makassar with 16 Yolŋu people from Galiwin'ku in northeast Arnhem Land to collaborate in the making of that opera with local Makassarese and Buginese performers.  
Aaron Corn's collaborations with Yolŋu researchers and performers also dates from the 1990s and has considered ceremonial traditions and new musical expressions that record and memorialise historical Makassan exchanges. Anthea Skinner's main research interest is the colonial history of Makassar, which builds on the work of her grandfather Cyril Skinner, who translated key Makassan court documents into both modern Indonesian and English. She studies the era of Dutch colonisation in the region, which eventually led the Makassans to abandon their established spice trade for products that were popular in Chinese markets like trepang and birds nest. 
Kristen Smith researches the anthropology of Indigenous data, and considers how Indigenous data is collected, stored and shared across often novel and unexpected contexts. James Pilbrow researches how Yolŋu ontologies can inform heritage recognition for the old Makassan–Yolŋu trade route. He undertook a remote Australian Volunteers Program posting with Universitas Islam Negeri Alauddin Makassar as a Research Development Officer in 2020–21. Gumbula-Garawirrtja's perspectives on Yolŋu–Makassan trade is the subject of his Masters thesis.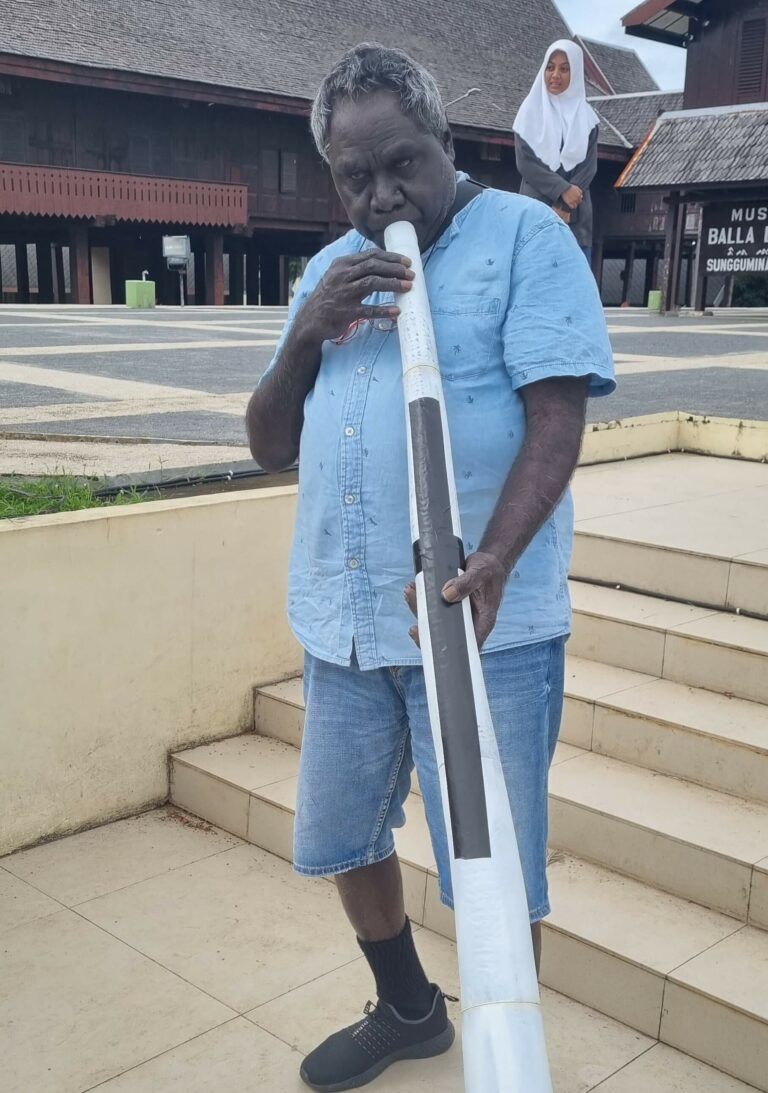 Brian Djangirrawuy Gumbula-Garawirrtja plays yidaki at the entrance to the old palace at Balla Lompoa, Makassar, February 2023. Credit: Lisa Pilbrow.
The journey 
As Hadrawi and Maulana introduced us to their city, Gumbula-Garawirrtja performed traditional Yolŋu manikay (songs) to formally introduce himself and Gondarra on behalf of the Yolŋu people and to reestablish links between their two cultures in a 21st century context. In Gumbula-Garawirrtja's own words, he explained that this was a way of 'introducing yourself, by way of our law, to the Makassan society'. 
These traditional songs were performed upon meeting the Australian Consul-General to Makassar and for descendants of Makassar's Gowan royal family, who still run the Balla Lompoa Museum at their old palace. Gumbula-Garawirrtja also performed for the curators of the Makassar City Museum (Museum Kota Makassar) and arranged to perform a long and complex exchange ceremony at the Baruga Somba Opu museum alongside Makassans performers with whom he had previously collaborated in Australia for the 2005 Garma Festival and Darwin Festival.  
Gumbula-Garawirrtja travelled to a local fishing village and stood with local fishermen at the water's edge and performed traditional dance movements to the Gupapuyŋu manikay song that records how all kinds of flotsam and jetsam float on the monsoon winds from Makassar to Arnhem Land.  Gondarra pointed out plants growing on the beach that were familiar to her due to the migrations of plant seeds on the tides or with human movement, and explained which ones were edible and how best to cook them. 
Both the Museum Kota Makassar and Balla Lompoa Museum featured prominent displays on Makassan–Yolŋu trade. The Museum Kota Makassar had an entire room dedicated to information about historical trade with Australia. This had been developed in the early 2000s with the help of British-born Australian historian, Peter Spillett, and included images and artworks such as a batik (traditional Indonesian textile) based on traditional Yolŋu design of the Dhalwaŋu clan, another Yirritja-moiety clan that shared in the Makassan trade franchise alongside the Gupapuyŋu and the clan of Gondarra's grandfather. She and Gumbula-Garawirrtja were able to provide valuable context for many of the photographs and other items on display, helping the curators to put names to faces and explaining many of the events and ceremonies depicted. 
The display at Balla Lompoa Museum was smaller, but included a tobacco pipe from east Arnhem Land similar to one owned by Gumbula-Garawirrtja, and paintings from the Tiwi Islands depicting Makassans and their praus (ships), as well as a large map depicting the Gowa Sultanate's sphere of influence at the height of its powers in the 17th century, which included the coast of Arnhem Land. 
Because Makassar is a now major city of some 1.5 million people, we had expected that much local knowledge of historical interactions with Arnhem Land would have been lost to time. Yet everywhere we went, we saw echoes of our shared past.  
On a personal level, one of Gondarra's main goals for the trip was to contact her distant cousin, Mansjur Muhayang, who she had not seen since he had visited Arnhem Land in 1988. Muhayang was a grandson of the prominent late 19th-century trepanger, Using Daeng Rangka, and Muhayang had himself travelled to Arnhem Land as a crewmember on re-enactment voyages both the Hati Marege in 1988 and the Nur-Al Marege in 2019. Muhayang met us during our visit to the old palace at Balla Lompoa and brought a collection of faded old photographs, including a family photo in which he was pictured alongside Gondarra as a young woman, bringing back warm, joyful memories. 
It was not only enduring Yolŋu-Makassan kinship networks that were still evident in modern Makassar. Echoes of the trade that once bought thousands of sailors to the shores of Arnhem Land can still be seen there. Down at the docks, many of the smaller trading vessels, or prau, still look much like the vessels which once travelled to Australia, albeit with modern engines added. Likewise, in islands off the coast of Makassar, there still live communities of trepangers, who salt and dry their catch in the sun, just as they once did on the shores of north Australia.  
If one looks closely, and knows what to look for, signs of our shared history are built into the very fabric Makassar. At the centre of the city lies Fort Rotterdam, a Dutch fort built within the existing walls of the 17th century fort of the Kingdom of Gowa. While from the ground it now looks like an 18th-century Dutch fort, when viewed from above, its ancient walls form the shape of a turtle. In Makassarese, locals know it colloquially as Benteng Penyu (Turtle Fort). Representing the ability to thrive on both land and sea, the turtle is an ancient and revered symbol of Makassan culture. Gumbula-Garawirrtja immediately recognised this same turtle as his own, as the sea turtle Malarrka is a major marker of Gupapuyŋu clan identity and an iconic ancestral figure in Gupapuyŋu ceremonies. The turtles themselves were also an important commodity that Yolŋu people traded with the Makassans. 
Enduring relationships 
We travelled to Makassar to better understand the ways that historical trade with Yolŋu people is now remembered there and found a city that actively embraces our shared history and seeks continuing opportunities to bring together Indigenous knowledge-holders from both countries. When Palmer first visited Makassar in the 1990s, few people had heard of its early connection to Australia, but today this history is being taught in Makassan schools and universities, mirroring its presence in some high-school history texts in Australia. Widespread knowledge of Makassan trade into Australia was expressed repeatedly by passersby at many of the historical sites we visited. They would approach Gumbula-Garawirrtja and Gondarra and say, 'Are you Aboriginal? Makassans and Aborigines are brothers'. Some used the word 'Marege', which was the name by which the Makassans historically knew both Arnhem Land and its Indigenous peoples. 
Having never been to Makassar before, Gumbula-Garawirrtja described the visit as a challenge to the existing knowledge of Makassan contact that he holds from his ancestors. He noted that the now-modern city and its people are vastly different to those of the stories that his ancestors passed down to him. He nevertheless still expressed strong connections to the people there due to his family's kinship ties and his reverence for the historical exchanges between his people and the Makassans. Gumbula-Garawirrtja is interested in returning to Makassar with a group of Gupapuyŋu men for a more formal visit, involving organised ceremonial performances and workshops.  
Authors: Dr Anthea Skinner, Professor Lisa Palmer, Professor Marcia Langton, Professor Aaron Corn, Dr Kristen Smith, Professor Brian Djangirrawuy Gumbula-Garawirrtja, Renelle Gandjitjiwuy Gondarra, Professor Muhlis Hadrawi, and James Pilbrow. 
Main image: An impromptu dance lesson with schoolgirls at the Balla Lompoa palace. Makassar, February 2023. Credit: James Pilbrow.